I am happy to announce the release of my first mobile game: Fly Kitty! : A Flappy Adventure
Fly Kitty! is a tap-to-flap game available on all iOS devices : iPhone, iPad and iPod Touch. In this game, you have to help Kitty fly on its hang-glider and reach the core of the magical forest! You'll have to tap on your device to fly over trees and watch out for balloons in the sky so you don't lose control and fall on the ground!
Fly Kitty! can be downloaded for free on the App Store and soon on Android devices according to public demand! 😉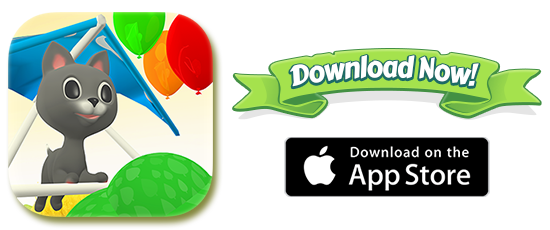 At a very early stage it was a clone of the popular game Flappy Bird I created using Unity game engine. Then I made quite a lot of changes and improvements to finally get a brand new game : Fly Kitty!. I'll go through the development story and technical details more in depth in futur posts.
For now I want to thank Maïa Zeidan who crafted the beautiful hand-painted textures for the ground and background of the game. That really creates a unique atmosphere and makes the game stand out from the crowd. Go and check out her website!
Here is a short video trailer for the game:
If you'd like to take a minute to help me, the best way to do it is simply to leave a review on the App Store.
And if you don't like the game, you can tell me more about it in the comment or by using the contact form 😀
Thanks for your support and have fun!
PS: Friends from the media, you'll find the press kit over here 😉